Calvary Zion Children's Home, Featured in The Voluntourist, Moving to New Site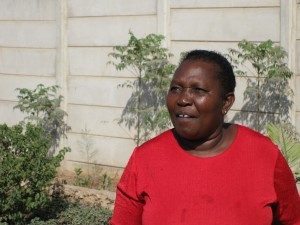 The Calvary Zion children's home, where Ken Budd and his wife volunteered in Kenya, is moving to its new spacious new home on October 27.
"Financially, this will make a huge difference to the monthly budget as there will be no rent to pay and for Jane [Karigo, at right], this is the realization of her dream, which started 13 years ago," said Susan Peattie, chairperson for the Calvary Zion Children's Home Support Trust, in a note to supporters earlier this week.
Some of the land at the new home will be cultivated, providing fresh fruit and vegetables for the children, along with room for chickens and goats. The produce and livestock will reduce monthly food costs; surplus food will be sold at a local market to generate income.
"I would like to take this opportunity to say a huge thank you and congratulations to Tanja and Reiner and all their supporters in Germany who have been the driving force for the project and have worked so hard to make it come to fruition," says Susan. "Thank you also to everyone in the UK who has contributed!"
Calvary Zion appears in the Kenya section of The Voluntourist. To donate online, go to the Calvary Zion Trust's web site.