Memoir on Voluntourism to Assist New Orleans Homeowner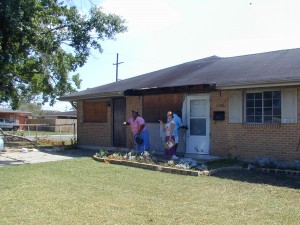 Last week marked the seven-year anniversary of the flooding in New Orleans. Because Ken Budd's volunteer journey began in New Orleans nine months after Hurricane Katrina, money from his memoir, The Voluntourist: A Six-Country Tale of Love, Loss, Fatherhood, Fate, and Singing Bon Jovi in Bethlehem, will go to a homeowner working to rebuild. Ken is sending a $200 check to Rebuilding Together New Orleans to assist Vivian Mason of Gentilly (see home at right). In May 2102, Ken donated $2,000 from his book advance to RTNO; all of his earnings from the book are going back to the places and organizations where he volunteered.
Here is information on the remarkable Ms. Mason from RTNO:
Ms Vivian Mason lived in her Gentilly home with her son for over 15 years before Hurricane Katrina destroyed it. She always loved her friendly neighbors and the sense of community they shared. She proudly boasts that her son "used to be the best baseball player in the neighborhood."
That neighborhood of her memories is hardly recognizable now. After Hurricane Katrina, Ms. Mason evacuated to Baton Rouge and then Natchez until October of 2007. She then moved to her mother's place while working to rebuild her own home.
With insurance money and other funds, she had hoped to finish the work on her home. Unfortunately, as soon as she received the money her mortgage company demanded she pay off her second mortgage. With the remaining money, she hired contractors to fix up her home but soon realized that their work was unsatisfactory. Although she stopped paying the contractors, this setback, combined with suddenly paying rent, plus mortgage payments, and paying for everyday living expenses, left her without the funds necessary to finish her home. Because the home sat gutted for so long, it is now necessary to demolish it and build new.
Despite losing a leg to diabetes, Ms. Mason is an incredibly determined woman. She was a dispatcher for the Navy for years before retiring. Instead of giving up, she turned to Rebuilding Together New Orleans for assistance in returning to her home. A friendly woman who kindly refers to everyone as "baby," she has been in our system for over two years and Rebuilding Together is looking forward to helping her finally return to her house.
To contribute, contact RTNO at 504-636-3075 or go to http://www.rtno.org/give-to-rtno/donations/.