Ken Budd Wins Travel Writing Award for Essay on Kenya and Voluntourism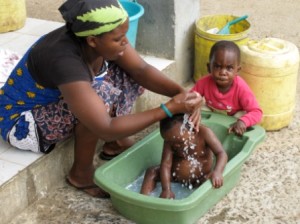 Ken Budd's 2013 story on his volunteer experiences in Kenya and recent media criticism of voluntourism won gold on October 16 in the Society of American Travel Writers' Lowell Thomas awards, which honors the best work in travel writing and media.
The piece, called "Holding Elijah," appeared on the travel site WeSaidGoTravel.com and won in the "Special Purpose Travel" category. It tells of Ken's work at the Calvary Zion children's home (above) and examines the pros and cons of volunteering abroad. The judges wrote: "In this finely written piece about a piece about a volunteer vacation at an African orphanage, the author tells the poignant story of one child while outlining in a personal way the controversy surrounding volunteer tourism. This entry raises important questions for all of us who would consider making such a trip."
The 2014 Lowell Thomas Travel Journalism Competition drew 1,177 entries. Earlier this year, an essay by Ken on his work in China won gold from the North American Travel Journalists Association. Ken's memoir The Voluntourist won silver in the book category in the 2012 NATJA awards and the 2013 Nautilus Book Awards. All of Ken's earnings from the book go back to the places and organizations where he volunteered.
You can follow Ken Budd on Facebook and Twitter: @VoluntouristKen.